On Day two I blogged about Victorian presents which you can read here
Victorian Christmas
. So since the past two days I have been searching the Internet like a Christmas maniac trying to find the best and cheapest presents (sorry family), I thought I would tell you all about the presents in the next era, the Edwardian's. The Edwardian period began in 1901 and lasted until 1910. When Queen Victoria died in January 1901 at the age of 81. She is still the longest reigning monarch by being on the throne for over 63 years. Prince Edward, her son took over as king.
Between 1900 and 1920 Christmas became increasingly commercial and there was a dramatic increase in giving gifts to children and a lot more people had Christmas trees. An Edwardian style Christmas is the type we still see on Christmas Cards, you know the idyllic picture with children behaving and without your Grandma asleep or your mum drunk on mulled wine. Even though Christmas was more commercial children were still lucky to get more then one present, yes sadly they still didn't have eBay.
Gifts were still hand-made and consisted of lots of embroidery, you know that stuff your Grandma does.
They included embroidered handkerchiefs, they ranged from fairly plain ones, some having initials on to elaborate ones with a lot of colour and work.
You can still buy embroidered handkerchiefs today and packs to show you how to do it. Ones that you buy have more colour in them and are mainly made of cotton. People don't really use handkerchiefs now though really, we have these things called tissues for that. Thanks very much Kleenex. But your older relatives may appreciate a nice handkerchief for Christmas, so here are some nice ones for men and women.
You can get the hankies initialled and words put on like 'We Love You Grandma' or if you are me 'Please buy me Jimmy Choo's', but whatever floats your boat.
There were also embroidered samplers, these are pictures that were put on the wall with either words, a slogan or a picture. Its what they did before Boots Photo Booth basically. Again you can still get them and you can get kits to do them with the threads and guide in, both are pretty expensive though especially from sewing sites. So I would go with the proper old fashioned Edwardian way of doing it, total guesswork. They would make good presents, probably not to your mate who is all into JLS though.
If you would like to learn how to embroider, then here is a video to help you:
How To Embroider
and here is a video teaching you how to convert a picture into an embroidered picture:
Embroidery Pattern from Picture
.
People still made food as homemade presents. Popular things included peppermints and sugared almonds. A good recipe for Peppermints is here
Peppermint Creams Recipe
. But if you are really lazy you can just get some fondant icing, peppermint flavouring and green food colouring.
The luckiest children got a Dutch doll or a doll's house, a new gift that was becoming popular was the teddy bear.
The best bears were made by the German company, Steiff and are collector's items today. Steiff still make bears, and today a new one will cost you from £50 to £200.
Wooden Doll's House
with 100 pieces £49.99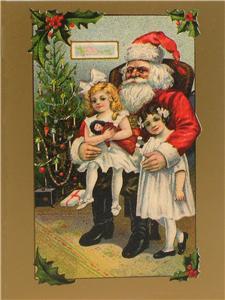 Sadly a lot of Children were still going without presents, I think Father Christmas must have eaten too many mince pies and not been able to get around the whole country, either that or he left all his Christmas shopping to the last minute. Lucky children may have been given a rocking horse, clockwork toys, boats, puzzles, trains and toy animals. Edwardian's continued to celebrate Christmas in a traditional way, despite the fact it was becoming more commercial. Even though it had they still didn't have to endure seeing Christmas adverts and decorations up in October. I'd take no Christmassy stuff until December over Diphtheria any day.
Second Hand Rose
XxxX