I'm sure by now you have all seen the sickly sweet Christmas advert on BBC1 with all those so called 'national treasures' singing away with their Christmas jumpers on. For all of you in the rest of the world, all I can say is lucky you. If you want to torture yourself again or you simply have absolutely nothing else to do, you can watch it here at:
BBC1 Christmas Advert
. Well, in my opinion apart from David Jason who I think is meant to be a sort of Father Christmas, the only national treasure in that advert is the mistletoe (come on, we've all used it to get a cheeky kiss off some hunky bartender.) The other great thing about it is the amazing Christmas jumpers, from reindeers to Christmas Pudding, its like Christmas exploded in a knitting bag.
Since it seems that Christmas jumpers are kind of back in, I thought I would show you my top twelve that I have found. Twelve Days of Christmas, Twelve jumpers,get it? Thanks for the idea Daddy Second Hand Rose. By Christmas jumpers I don't mean a jumper with a bit of fairisle that you can get on Asos for £40. I mean full on Christmas jumpers packed with more Christmas then the Iceland Adverts. There are a lot of jumpers around with things stuck on, but all of them that are in my top ten have the pattern in the knitting. What can I say, I'm a bit old fashioned like that.
I have included links for the ones that I can find, but some of the jumpers look something like your Grandma would whip up so I can't find them to buy. Christmas jumpers may not have been popular in recent years, (don't worry Mr, Jumper, I always stook by you) but they seem to have been around since people learnt to knit and wanted to combine their love of knitting with jingle bells. So the countdown begins, oh and just to let you know there won't be four calling birds or nine ladies dancing, they are a bit busy this time of year.
12.
I love this bright red vintage style Christmas jumper, with the puffy sleeves, white reindeer and trees. Be warned, this is the only jumper on my list that you could wear out without being sectioned or at least getting funny looks from your curtain twitching neighbour next door.
11.
This blue jumper might not have an extreme amount of detail on, but I couldn't resist the smiling snowmen and the matching scarf and wooly hat. The hat even has a bobble on the top, what more could you want in your Christmas stocking?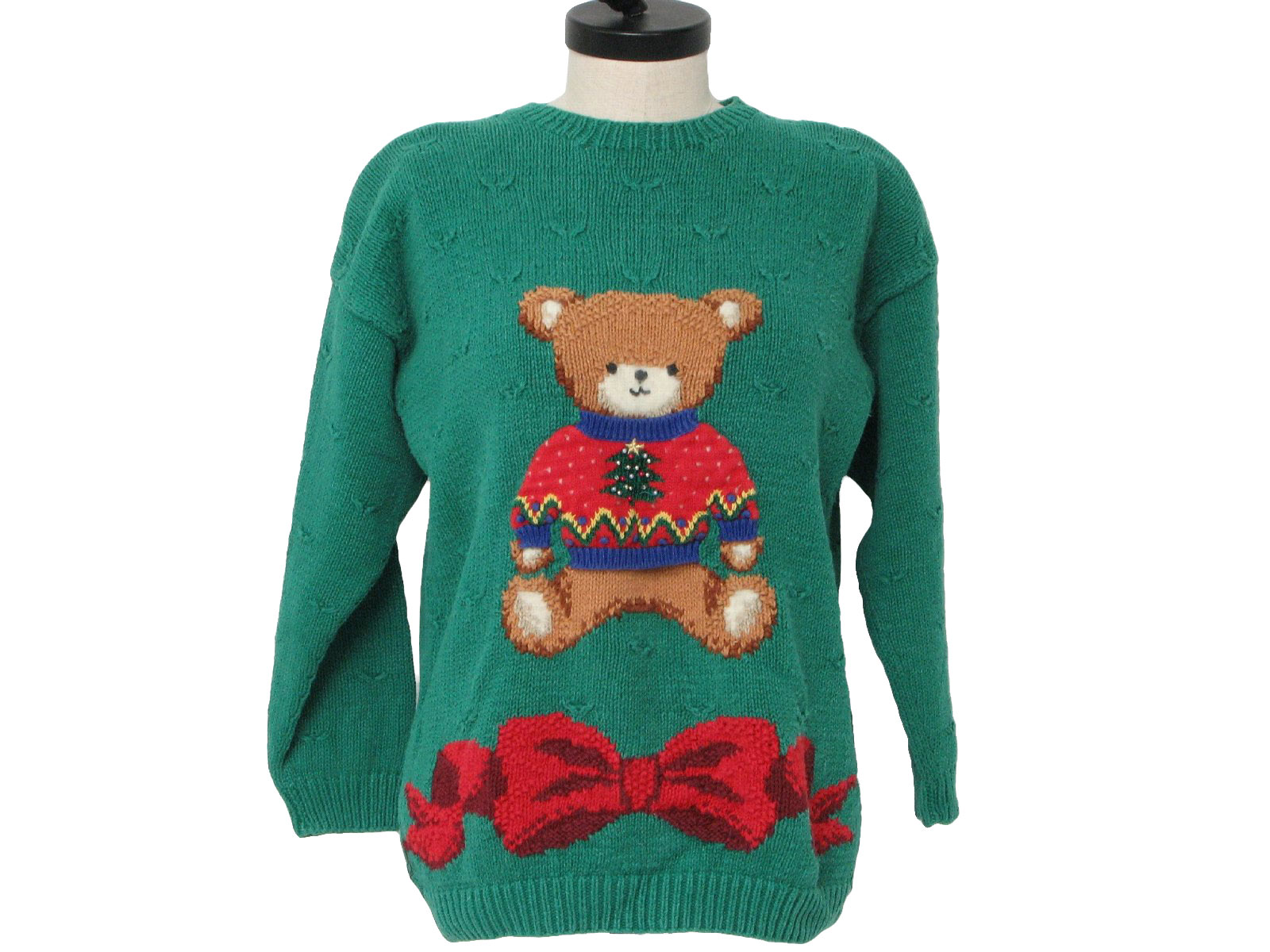 10. I found this jumper when I was actually searching for a different one but 'Father Christmas dancing on his head' is a pretty hard jumper to find. I love the colour of the jumper, the gorgeous bow and the cute little teddy with the Christmas jumper on. Seeing this jumper makes me start thinking of wooden soldiers and nutcrackers and to me the teddy looks like its come straight out of Father Christmas's workshop. I wonder if you can get some on eBay.
9. This is your chance to have a bit of the Ho Ho Ho spirit (sorry, I'm bad at puns) and be Father Christmas. Without the huge tummy and the gorging on mince pies and mulled wine the whole night on Christmas Eve. Actually the latter does sound pretty good, although I don't really fancy flying around the world on a sleigh all night, squeezing down chimneys to give out presents, too much hard work for me. But if you are up for the job or just fancy a mince pie you can buy the jumper
here
for £35.
8. A Christmas scene jumper complete with stars, trees, houses and even a church. The array of colours remind me of the jumpers my Grandma makes from a load of leftover wool. Thankfully it isn't brown, orange and pink, yeah we won't talk about that jumper.
7. If like me you don't fancy flying around the world on Christmas Eve, you can still get a part of the North Pole spirit with this Elf jumper. Complete with a candy cane and star buttons. Now all you need are the shoes and to shrink about three feet.
6. Yes this is another reindeer jumper, but it isn't just a normal bog standard reindeer jumper. This is a rude giggly Christmas jumper, well there is always someone that wants one. In each jumper there is a rather frisky reindeer on top of the other one, I don't need to put in print what they are doing, I think we can all work that out. If you don't understand it, you should have paid more attention in Biology classes at school. The jumper comes in four colours and can be found
here
for £34.99. I know it is expensive, but the thought of your Grandma's face when she sees it kinda makes it pay for its self.
5. I love this dark green jumper with Father Christmas on, its got so much going on in it. Unlike the other Father Christmas jumper you can actually walk down in the street in this, without getting confused children running up to you asking where your beard is, have you lost weight recently and can they have a Nintendo 3DS for Christmas.
4. This jumper has more colours in it then Homebase has in Tinsel. There is so much going on from snowflakes to presents. You lucky Americans can buy the jumper for $17.95
here
. Good luck being able to wear this during the year.
3. This is an elf jumper on turbo drive, complete with pointy shoes, and presents. I love this colourful jumper and it can be found
here
for $44.99 from the land of the leprechauns. Sadly it doesn't come with the hunky Irish man though.
2. I love gingerbread men and houses at the moment and I think this jumper is fabulous. Its packed full of so much gingerbread fun with lollies and little ginger men buttons, I'm sure Hanzel and Gretel would be tempted.
A Christmas drumroll please...............
Da Da! 1.
This is my favourite jumper out of all the thousands that I have looked at and laughed over with Daddy Second Hand Rose. Apart from all the presents, holly and humongous tree, it has LED lights fitted into it. Yes lights!! They are battery operated and twinkle nearly as bright as the star the kings followed. There are a few Christmas jumpers around with lights fitted in, but I narrowed it down to this one because it just gives me a sense of cosieness and I can just hear the fire crackling in the background. Well its better then children fighting over the Xbox and Grandma snoring isn't it.
Whilst doing my countdown I came across the most amazing website which set the lightbulb flashing in my head and gave me an idea. The website is called 'We love holiday sweaters' and you can find it
here
. Basically on this quirky website you can design you own Christmas knitted jumper! You are given colours to choose from as a base and decorations to put on it, including words. Trust me I've had a lot of fun on this website. So what I thought I would do is launch a competition for the best designed Christmas jumper!
What you do:
-Go to the website and click on the 'Start knitting' icon.
-Then click on 'Crew Neck'
-Design an amazing festive packed jumper and then click on 'Send Sweater to a Friend' and send along with a description to: thehandmedownrose@gmail.com
-Become a follower on my blog.
- Follow me on Twitter here:
@Second_HandRose
and tweet about the competition and give a link to my blog.
-Write about it on your blog and send me the link to it.
Don't worry if you don't have a blog or Twitter, you can still enter by sending me the Jumper and a description like above.
You have till midnight of the 23rd of December to do this and I will then along with my cat decide on my Top 5 and they will be announced on Christmas Eve!
I will then run a poll on my blog (I think 12 days is enough time for me to work out how to do it) and you can vote for your favourite jumper.
If you are in the Top 5 you have to blog about it on your blog, add me on Twitter and re-tweet about it.
I am doing this purely for fun, but if I can get some more hits and followers out of it I will be one very happy elf.
Now you can't vote for your own jumper, because its cheating and its not too late for Father Christmas to put you on his naughty list.
I will then reveal the winner on New Years Day and send the winner a totally fabulous prize!
So everyone get designing, but for now here is my jumper. As you can see I went just a teensy weensy bit mad on the whole Christmas thing but if you are gonna do it, you might as well do it properly ie. cover it in head to toe with stockings, reindeers and baubles. Not a Scrooge or Grinch in sight.
Second Hand Rose
XxxX